A free Nutritional Consultation service for Whitehawk
Posted on
During the January 2014 funding round, an East Brighton Trust grant was awarded to Nutritional Therapist Monika Stedul to establish a free Nutritional Consultation service in Whitehawk.
The purpose was to offer free personalised one-to-one Nutritional Consultations and Clinical Hypnosis to residents in the Whitehawk Community. In this programme, unwaged and low-income individuals, as well as pregnant women and those with chronic conditions, would be given priority access to consultations. Funding of £500 was provided by the East Brighton Trust to cover the cost of room rental at the Whitehawk Inn. This funded 62.5 hrs of free nutritional consultations and clinical hypnosis sessions and 23 people were able to access this advice. 80% of the patients were from Whitehawk and patients came from a wide demographic, many with mental health issues or chronic health conditions.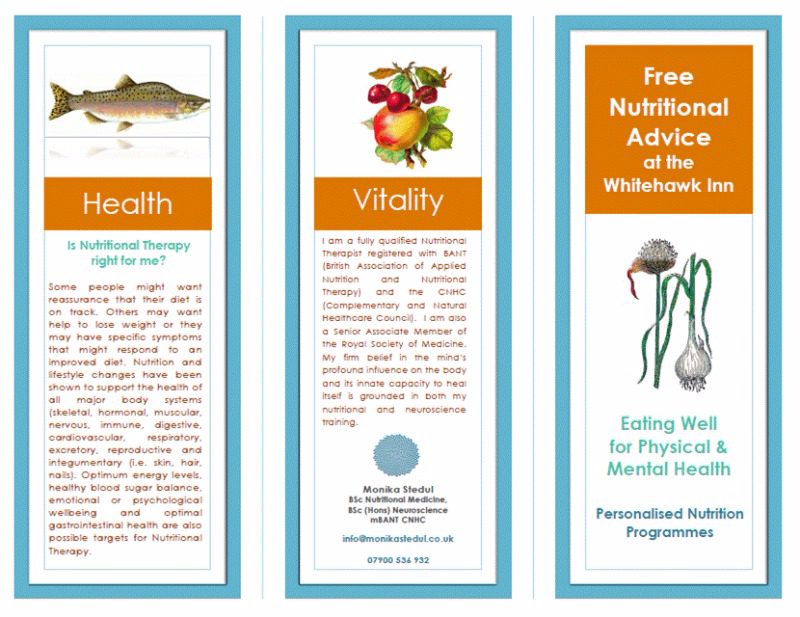 Patients were asked to give feedback following their course of consultations, and their responses gave a glowing report to the service. Participants said:
"I am grateful for the chance to experience this therapy as I could not afford to pay"
"informative and enjoyable....has given me a real understanding on essentials of nutritional requirements"
"It was very helpful and relaxing to have these at a local community venue"
The most common response was that individuals appreciated being able to have the time to talk about their health concerns with someone. Some patients were keen to discuss how food could make a difference to their health but felt hampered by lack of cooking skills and all feedback form responses reported that face-to-face consultations had been helpful for their health concerns and that the programme had been helpful.
The free programme has finished for the time being, but you can find out more about Monika's nutritional services on her website and blog.