Making Our Mark in East Brighton
Posted on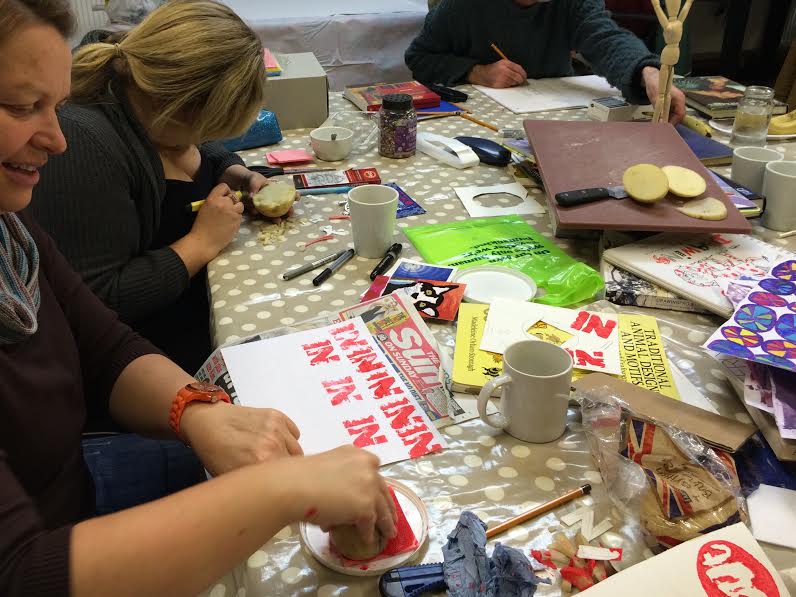 Art group Making Our Mark! (formerly known as Make Your Mark!) were awarded an East Brighton Trust small grant in June 2014 to spend on art materials and equipment at their regular groups which have been running since November 2014.
Margaret Anderson tells us a bit more about the group:
"The group gained a committed core of people from the off and others have joined since. This has been possibly the greatest achievement as we have become a fun, relaxed support group for each other where people feel safe to discuss anything that might be going on in their lives if they want to.
Strong friendships have been made: I now go walking with one of the members and have joined in a concert at a nearby old people's home with her. People have been to each other's houses socially. One member is having another as her chief bridesmaid at her upcoming wedding, having never met each other before. Two members became PA's for one of the group. A group holiday has been suggested - which everyone agreed would be a lovely thing to do! People attend regularly and thoroughly enjoy themselves. Tea and coffee flows freely and members bring along biscuits and fruit to share. No charge is made for anything and we do not pay rent for the hall so there is a suspension of commercial concerns that helps to build a relaxed, warm, familial atmosphere.
We have done a great deal of art work!
Printing: potato prints, monoprints, collagraph, printing with Indian woodblocks, lino printing.
Painting: acrylic and water colour, ink. Both individual paintings and collaborative 'Community paintings' have been a great success and very much enjoyed by the group. These are around 10 foot long on rolls of lining paper. One member cut out and framed sections of these.
Greetings cards have been made and tissue paper printed to make gift wrapping.
Sometimes people work on their own projects: for example the member getting married was helped to create hand printed wedding invitations by another member and to make a large wedding decoration that involved painting stencils on hessian.
Recently we have begun to use the book 'Drawing on the Right Side of the Brain'. This is a method by which people, by following a series of simple exercises, learn to draw well. This has been very enthusiastically and seriously taken up by many in the group. Results are very encouraging. The members get real pleasure in seeing their work developing. Each member of the group is given their own sketchbook(s) to take home and some are working in their own time.

All are visibly overjoyed to be doing art. For some it is the first time. Others have done art before but had low or no confidence in their ability. I can see the achievements made in the group building peoples' self-esteem and changing the way they think about themselves. The group has quickly become an important part of people's lives and many express being 'gutted' if they have to miss a session.
Some of the members come from Bevendean and Manor Farm, I don't think from Whitehawk - yet! Some have health issues and everyone is able to be frank about what is going on for them because I think the group has a very nurturing dynamic. I truly believe that art is powerfully therapeutic in people's lives. When I set the group up I didn't imagine that it would be so easy to create what I had envisaged: to have people now able to paint, now learning to draw seriously. One student listed all the things that she had done since joining the group. She listed galleries she had suddenly gone to, art books and magazines she had read (there is a small library of these), videos of suggested artists that she had watched and all the different types of work she had done. It was a long list. I was really impressed and gratified. I think the achievements made by all the members has been huge. All have made work that they are very rightly proud of. All have visibly gained in confidence and happiness and it has been a real joy to see this happen."
And one participant of the sessions said:

"Having not done any painting or drawing since college around 33 years ago, I have been amazed at how joining the Make Your Mark Art Group has enabled me to get right back into it! I'd forgotten how much fun it is to paint, especially as part of the 'community paintings' we have been doing. I feel generally happier, more positive and able to cope with the day to day."

The photos you can see are from last year when the class first began and show people in the group potato printing, monoprinting and drawing.