New historical costumes for the Community Costume resource.
Posted on
Gladrags is a unique charity based at the East Brighton Trust run Westergate Business Centre which provides over 6,000 affordable costumes to community groups, schools and colleges, and low budget projects.
In June 2014 they received funding from us to help towards a number of things they were working on. These included making new historical costumes, accessories and artefacts to be used as resources for schools, a Bronze-age day in Coldean and a Tudor Storybox session.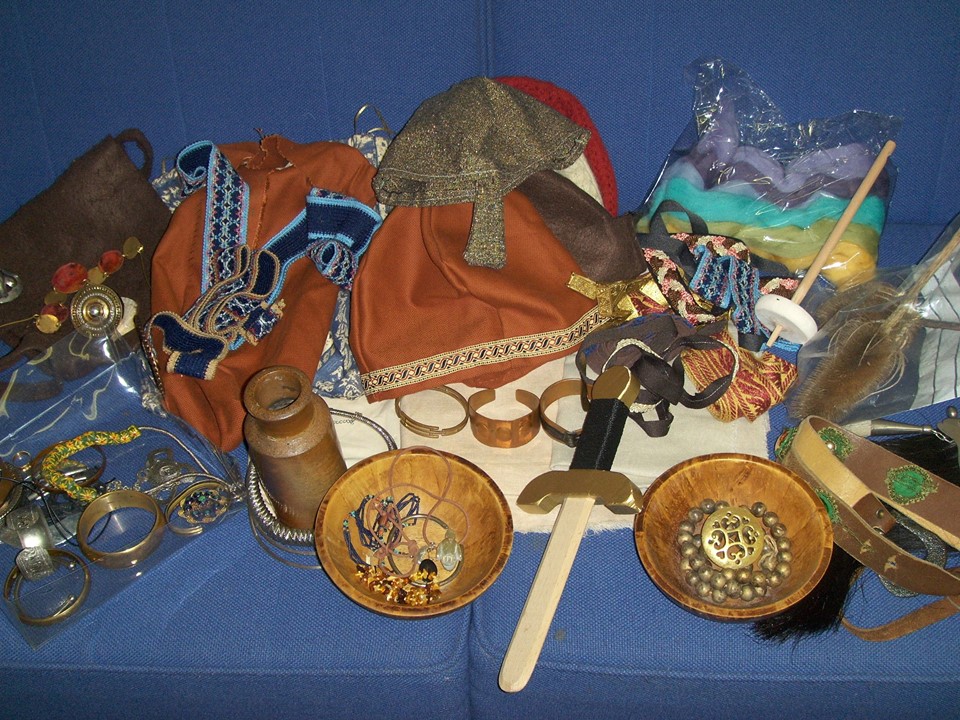 The picture above shows a selection of Viking and Anglo-Saxon accessories and artefacts purchased and made, including hats and headbands; jewellery; bags; spinning and weaving tools and materials; natural dyed fabrics and here, project manager Vania Mills tells us how some of the money was spent:
"Our project involved acquiring and making new historical costumes, accessories and artefacts for our School Resource Boxes, and piloting Storybox sessions as a classroom activity. These sessions are linked to curriculum topics and invite children to create characters via costume. These characters are then interwoven into a fun, lively, interactive story, invented on the spot by the Storyteller, who carries a knowledge-based narrative which is constantly driven by the children's input, based on their understanding of the topic.
Our new Resource Boxes have been developed in response to the changes to the National Curriculum this year, in particular the KS1 and KS2 History Curriculum. They cater, therefore, to the new resourcing needs of local schools. boxes contain clothing and artefacts, tailored to a topic or theme which enable children to handle items and try on garments that place their topic in its historical era in a kinaesthetic and tangible way.
Our volunteer team at the Gladrags store have made a set of Stone-age/ Bronze-age outfits and accessories, and adapted donated costumes to fit within our collection of Medieval and Tudor costumes, providing a wider range of children's garments. We have worked with a Moulsecoomb-based seamstress to make more complex outfits, including Anglo-saxon, Viking and Ancient Greeks and Egyptians. We have purchased accompanying accessories, such as helmets, shields, domestic replica artefacts.
Consequently we have been able to adapt our school resources to ensure they are still relevant to curriculum learning, and contribute to enrichment activities within the classroom. Feedback from teachers last year told us that teaching resources for new curriculum topic areas were not keeping pace with the curriculum changes, hence our desire to prioritise the updating of our own provisions to them. Our new Resource Boxes have helped teachers to offer varied approaches to learning and bring topics alive, from exploratory handling sessions and 'historical-detective' work, to role-play activities and encouraging pupils to literally put themselves in the shoes of their global ancestors!"
Follow Gladrags on facebook to see more pictures of the fabulous costumes they have created.