Creative Writing for Moulsecoomb Pupils
Posted on
Little Green Pig is a creative writing and mentoring charity which focuses on engaging 7-18 year olds from disadvantaged backgrounds on a programme of free projects.
In Spring 2017 they received funding from East Brighton Trust to support a creative writing project for children from Moulsecoomb Primary School. They held two workshops which took place in November and December at the Moulsecoomb Forest Garden, an important and inspiring outdoor space which is led by adults with learning difficulties.
Little Green Pig say of their work "We believe that everyone, whatever their background, has a right to write and needs a gym for their imagination. Our main objective is to give opportunities to the young people in the community who need them most including those from disadvantaged backgrounds or living in areas of high deprivation."
Over the last year, Little Green Pig has worked with over 800 children and teenagers on projects ranging from devising a crime drama to writing a travel guide to Brighton and Hove. They work hard to develop relationships with schools, families, organisations and individuals in their target areas and currently have over 50 trained volunteers who support their workshops.
During the two 2-hour workshops at the Forest Garden, 26 Year 4 pupils from Moulsecoomb Primary School had a chance to explore their environment and create original poetry inspired by the Garden. The aim was to encourage teamwork, free expression and creativity whilst helping to improve the children's confidence and self-esteem.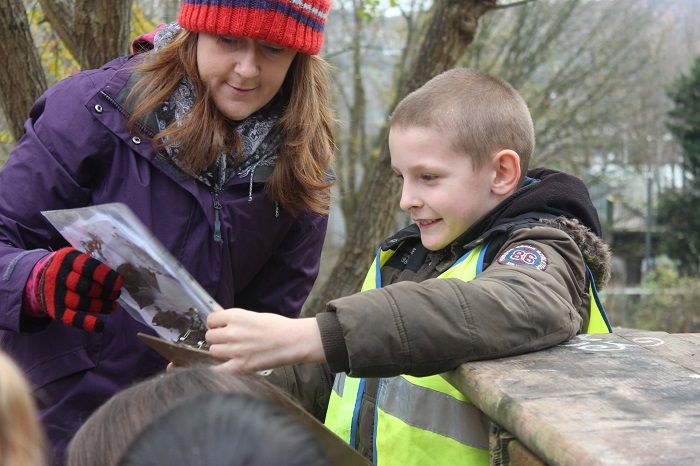 Each workshop was supported by four fully-trained Little Green Pig Story Mentors (volunteers), in addition to the class teacher and teaching assistant, and was led by experienced workshop leader Adam Webb.
Workshop One involved engaging with different activities including games, free-writing and garden exploration to inspire and generate ideas for their final poem. Then during the second workshop participants consolidated their original work, learned about motifs in fiction/ poetry and then used garden motifs to create original poetry. All 26 children shared their work with the group.
Little Green Pig told us "This type of work empowers participants, giving them a voice and encouraging them to try new things. It also fosters a sense of community in the group as they share their creative work in a very positive way and offer generous feedback to one another. Being in the garden encouraged participants to pause and absorb their environment, and encouraged them to think about creative writing as a response to sensory experiences. The children were encouraged by our volunteers to develop their interest in it without the pressures that they may face in the classroom if writing is normally a challenge for them."
The group are hoping to display or project the poetry in Moulsecoomb Primary School which will allow it to reach new audiences and enable the whole school community to benefit from the project.
Little Green Pig will continue to take their writing projects into a variety of spaces across the city and beyond and we look forward to hearing about their progress.
Find out more about the workshops on the Little Green Pig website and follow them on facebook and twitter to keep up to date.