Health project for Oromo women in East Brighton
Posted on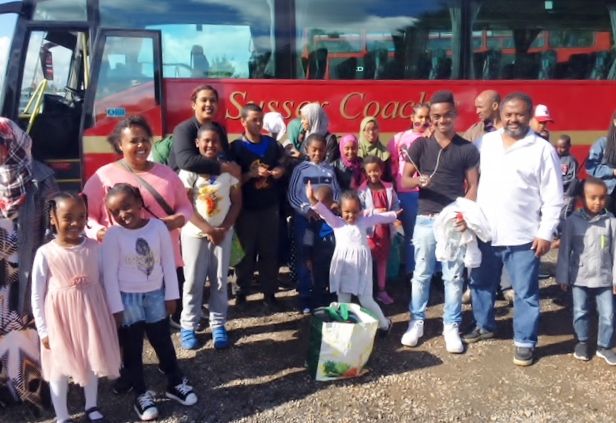 The Brighton & Hove Oromo Community is a small group of Oromo refugees, originally from Ethiopia, many of whom now live in East Brighton.
They were awarded a £500 small grant from East Brighton Trust in January 2017 to run a health project for the women in the community. The funding went towards 3 elements: 10 swimming classes, 10 Shape-Up classes (beginner level aerobics) & a day trip to Thorpe Park.
The community got in touch to tell us about how they spent the funding: "Because of the swimming and shape-up sessions, 16 adult and young women feel happier, less alone, less stuck at home, and spent more time with friends and family, and some also experienced physical improvement from doing some healthy activities.
"Having women-only swimming and exercise classes was really important for us because it gave us a chance to meet in a space where we can be together, just the Oromo women, and socialise, bond with our daughters, as well as do something healthy. We don't have many opportunities to go out, and cannot afford leisure activities so these regular activities are really important for us."
And talking about their trip to Thorpe Park: "A total of 45 Oromo people (including 15 women and 20 children) were able to enjoy a day out for the first time in a year.
"Our trip to Thorpe Park was the only holiday that our members were able to have in the year. As a result of the trip, 15 women and 20 children felt happier, felt closer to their families and community, and felt less isolated. It was amazing for us, particularly women and children, to have the opportunity to have a little day trip, and have some fun and spend some time together outside of our usual routines, and to simply get out and get a change of scenery.
"The women in our community don't have many opportunities for leisure activities, because we are the main carers of our children but also because we can't afford it. We just don't get to have holidays and go away like some other people can. We were able to have a break, and relax, and to get out, and see something different outside of Brighton. It also really helped to improve our family relationships to have time together in a fun and relaxed environment.
"We are very happy that East Brighton Trust gave us some funding. We would not be able to run some of our activities for our community without this funding."