Friday Friends celebrate the Queen's birthday
Posted on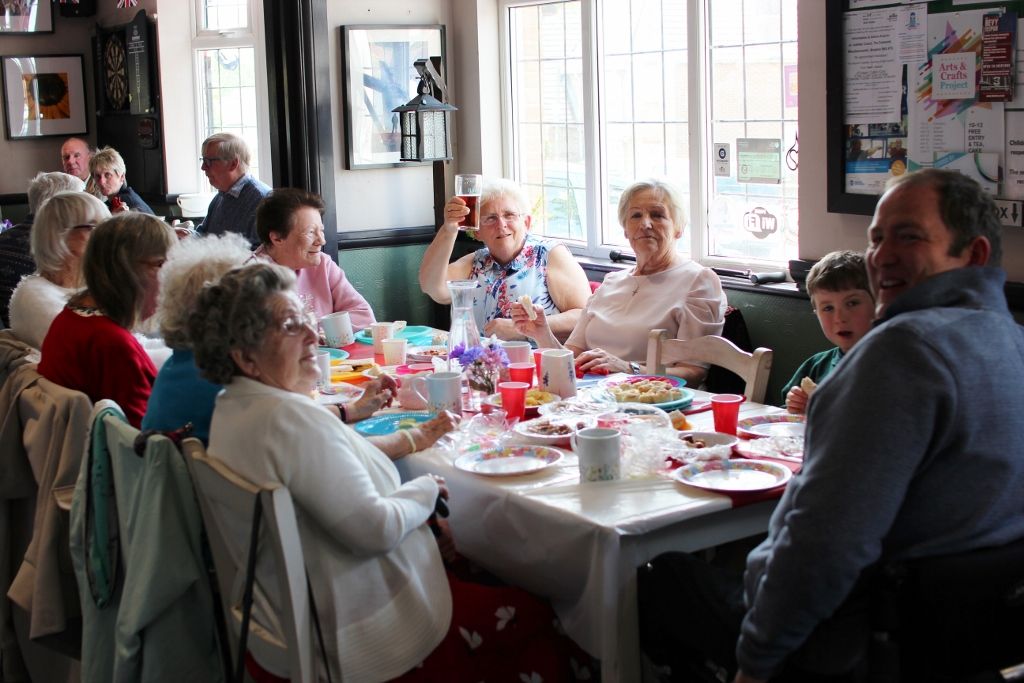 This Saturday 8th June, the Friday Friends were joined by the Mayor of Brighton & Hove as they celebrated the Queen's birthday with an afternoon tea. The pub was adorned with Union Jack flags and over 40 members of the group came along to enjoy a wonderful spread put on by the Friday Friends' volunteers. There were sandwiches, scones, cake and fizz for everyone including a special vegan selection for Madam Mayor, Councillor Alex Phillips, who was also presented with a basket of fruit by some of the youngest volunteers. Dave Gibbons, who along with his wife Barbara and treasurer Jonathan is the force behind the Friday Friends, told us he'd been baking all week in preparation for the event and had made his first ever vegan cake – a delicious lemon cake which team EBT enjoyed very much!
The Friday Friends is a weekly lunch club at The Bevy pub which provides a meal and bingo for over 60 older people from Moulsecoomb and Bevendean. Up and running since 2015, the group is now a vital part of the community, providing a regular social occasion and preventing loneliness and isolation amongst some of the areas' oldest residents. This is the fourth time the group has celebrated the Queen's birthday which has now become an important part of the Friday Friends' social calendar, along with the Christmas party they hold each year, which East Brighton Trust has been delighted to fund through our small grants scheme for the past few years.
The group was recognised recently with an invite to a Buckingham Palace garden party in acknowledgement of their contribution to the community. Volunteer Barbara went along with treasurer Jonathan, his second visit to the Palace after having been there to represent his regiment at the Coronation in 1953 when he was just 21.