Covid-19 East Brighton Trust Emergency Response
Posted on
In the current climate of the Covid-19 crisis and for the foreseeable future, East Brighton Trust directors have decided to focus our grant giving on responding to urgent local needs in our area of reach - that is Moulsecoomb, Bates Estate, Saunders Park, Manor Farm, Whitehawk, Craven Vale, Bristol Estate & Bevendean.
If your group or organisation requires urgent funding then please get in touch via our emergency funding form →
(We regret that we cannot fund individuals.)
And our partners at Sussex Community Foundation have launched the Sussex Crisis Fund which provides simple and quick access to funding for emergency and unexpected needs. Please visit their website for more information and how to apply →
Recent Emergency Grants
In mid-April, we distributed funds via our partners at Sussex Community Foundation to a number of projects as an emergency reaction to the Covid crisis.
Here is an update on where the funds went:
Moulsecoomb Primary School
We were pleased to award the school £3,000 to provide tablets to help pupils with onsite and remote learning.
The school has been in touch to say this will particularly help with getting young people access to the new online Oak academy – where a schedule of lessons is being provided to cover all ages from reception to year 10.
Headteacher Adam Sutton emailed to say:
"Thank you so much for this, it really is welcome. The recent announcement regarding the online 'National Oak Academy' has made this even more essential if our children are not going to be further disadvantaged by this crisis. This money will enable us to purchase laptops and data-dongles to allow those children without access to technology and the internet to try and keep engaged with the curriculum at home."
We were also able to assist them with a bit of technical support for the school website - helping them make home learning resources and welfare information more prominent as well as adding a link to their fantastic YouTube channel on which they are sharing a storytime each day.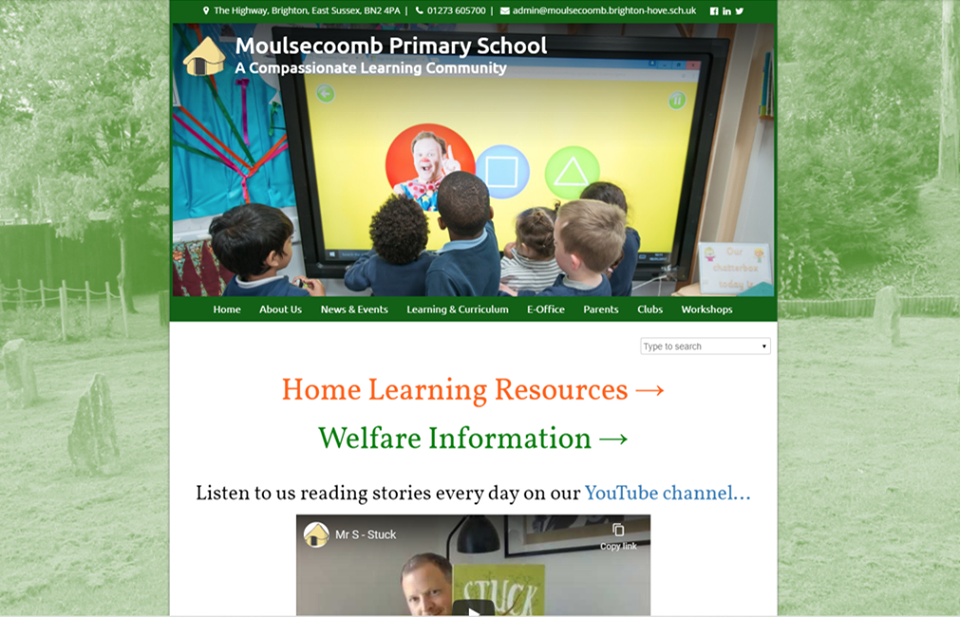 St Marks Primary School
£3,000 was awarded to the fantastic St Marks to provide school meals, transport and cooking equipment for families who need it as well as resources for those learning from home.
Headteacher Jane Fendley emailed to say:
"Thank you very much for your very generous donation of support. This is a lifeline for many of our families."
A tweet (including the pictures below) said "We are so lucky to be able to put together further learning packs to supplement what has already been sent home. @RoedeanSchool have supplied us with a book for every child & @EBT_UK have funded our stationery packs. These will all be sent home next week with more activities."
Both of these emergency grants to the local primary schools are in addition to the Primary School Enrichment Grants which enable the schools to provide extra-curricular activities to enrich pupils' educational experience and consequently their lives.

East Brighton Food Co-op
We awarded £3,000 to the emergency efforts to distribute food to local people in East Brighton.
East Brighton Food Co-op and their partners have opened two community kitchens as part of the Covid-19 emergency food response for the Whitehawk, Bristol Estate and Manor Farm areas. They have been cooking and delivering meals every day since 30th March - either free of charge or for a £2 donation.
You can find more info on their website and they frequently share updates on facebook including pictures of Buddy the horse out and about making deliveries.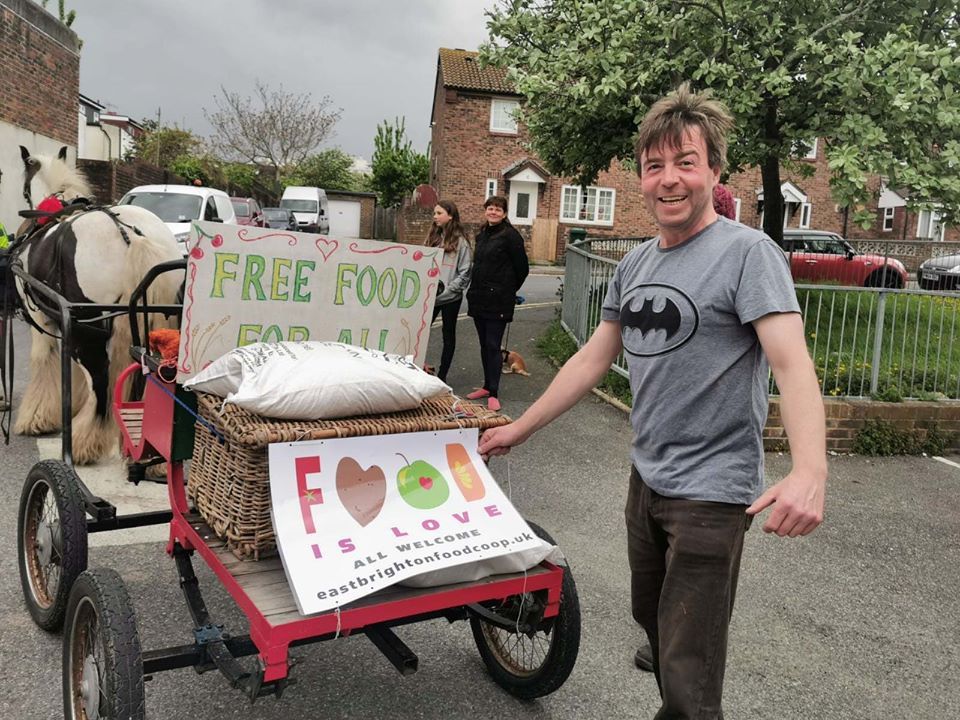 The Bevy Meals on Wheels
We donated £1,000 to support The Bevy's community Meals on Wheels service in Moulsecoomb and Bevendean. They have now delivered over 900 meals and as well as providing tasty, nourishing food, their team is also able to maintain contact and keep an eye out for people in the community they know to be vulnerable. Find out more on the service on The Bevy website.
Some quotes from recipients and some pics below:
"What a lovely, lovely meal. Please thank the chef and everyone and the delivery lady and you. And the strawberries were lovely, you're doing a great job thank you very much." Pearl
"The meals have been a weight off my mind because although [my sister] was getting meals delivered before they were frozen and she couldn't work it out and we were throwing endless meals away. But she loves these hot meals and she is eating them. It's been a life saver and a godsend for her and for us. Thank you for everything you're doing there's obviously a need." Jenny
"Thank you so much for all the lovely food. Please let the chef know my daughter thoroughly enjoys his cooking as we all do." Jacqueline
"The food is absolutely lovely, we really appreciate it. It's become their highlight of the day and it also helps us keep track of the days and weeks because it's easy to get lost." Patrick

Sussex Homeless Support
We awarded Sussex Homeless Support £1,000 to set up a food bank and get food to homeless people in and from the East Brighton area. The images below are from their facebook page, on which they frequently post updates of the food they are serving - up to 90 meals each night.