Creating a mend, make and share community in Whitehawk
Posted on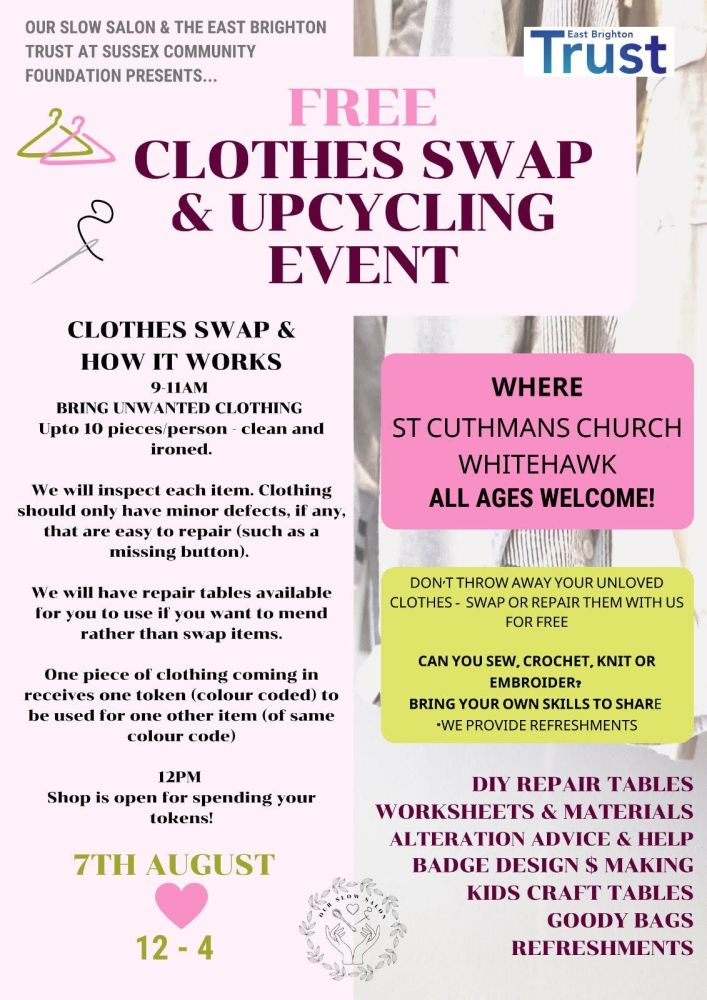 This August, the very first clothes swap was hosted by Our Slow Salon at St. Cuthman's Church in Whitehawk.
The event was designed to help local families to swap the clothes they no longer wore, with community volunteers on hand to help with alterations if required. Our Slow Salon also put on cookery workshops throughout the day plus free food including a popcorn machine!
The aim was to use food, fashion and creativity to bring people together to promote a sustainable and zero-waste ethos.
East Brighton Trust funded the event through our small grants scheme with an award of £500.
Organiser Charlotte Hastings told us "St. Cuthman's is a bright, welcoming space, where we could have creative tables for kids and parents, repair and updating and making tables for the clothes brought in and of course make lots of delicious food to keep us going!"
People attending the event had some really nice things to say too:
"Had a really wonderful time today, swapped quite a few tops and ate some lovely food"
"Thank you for organising this event, it's much needed and very helpful to people who don't have much money. The food was amazing and I got my jeans fixed and some new clothes."
"Great way to meet new people and great to swap clothes we grew out of for new things to fit into."
"Fabulous event! Huge success, great atmosphere, delicious food. Warm community atmosphere enjoyed by all."
Charlotte wrote to thank us for the donation, saying "Our Slow Salon - 'creating a mend, make and share community' - has been lifted into action in Whitehawk by East Brighton Trust - now we can't wait to put on more events bringing the community together for a creative, active, sustainable future."
We can't wait either and hope to see this fantastic initiative evolve and grow to reach more families across Whitehawk.