Little Green Pig's Young Writers takeover
Posted on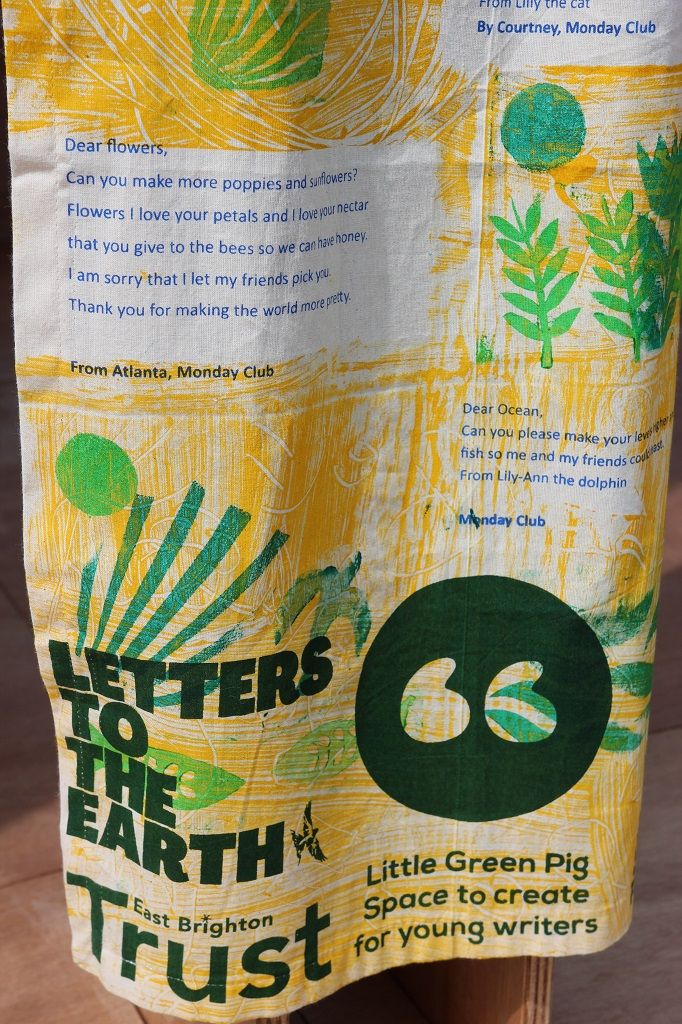 During this year's Brighton Festival, a range of creative writing by children from East Brighton was on display as part of the Little Green Pig Young Writers takeover - a weekend of free activities celebrating the creativity, imagination and hopes of local children and young people through workshops, performances and writing activities.
EBT funding supported children aged 7 to 11 from across Little Green Pig's after school clubs to write poetic and powerful messages to the planet. These could be viewed by the public over the weekend of 21st and 22nd May at the Riwaq, an outdoor structure specially designed for this year's festival by architects Marwa Al-Sabouni & Ghassan Jansiz.
Little Green Pig is a creative writing charity which works with children and young people who face challenging circumstances; supporting them with creative writing initiatives that build confidence, literacy, and provide a platform to be heard.
The charity has a long history of working with families in East Brighton. They first became a part of our East Brighton Trust community in 2017 when we awarded them a small grant to deliver a nature-writing based project named "Garden Words" that took place at Moulsecoomb Forest Garden. During the workshops, Year 4 pupils from Moulsecoomb Primary School had a chance to explore their environment and create original poetry inspired by the outdoors. The aim was to encourage teamwork, free expression and creativity whilst helping to improve the children's confidence and self-esteem. As Little Green Pig told us afterwards "Being in the garden encouraged participants to pause and absorb their environment, and to think about creative writing as a response to sensory experiences. The children were encouraged by our volunteers to develop their interest in it without the pressures that they may face in the classroom if writing is normally a challenge for them".
Following the success of this project, work has continued in the area and now a new generation of Little Green Pig after school writers is emerging in East Brighton.
This year we were delighted to support the organisation again with their special creative writing project "Letters to the Earth: Planet Power". This involved 30 participants from two of their East Brighton after school writing clubs, aged 7 to 11 from Years 3 to 6. Local schools represented included Moulsecoomb Primary, City Academy, St John the Baptist, Middle Street, St Marks CofE plus home-educated children.
The grant from East Brighton Trust covered the costs of delivering workshops to help children create 'Letters to the Earth' – their own poetic and powerful messages to the planet. During the workshops the participants were also encouraged to bring their writing to life with visual artwork and illustrations. The letters have been beautifully printed and illustrated by the children onto banners thanks to the artists at East Side Print and the finished pieces will now be exhibited in community venues and local spaces, starting with this year's Brighton Festival.
The contributions from East Brighton children are joining Letters to the Earth written across the globe, from indigenous community activists to famous artists, giving the public the chance to read what these young writers from Whitehawk and Moulsecoomb have to say about the climate and nature emergency.
As Little Green Pig summarised so beautifully in their application to us "These are letters written about their fears, hopes, frustrations and love for the earth and the dangers of climate change. It will allow them to feel part of something bigger and know they can make a difference via their own writing, imagination and literacy skills. It will be an opportunity for them to learn about the power their writing and words can have, giving them a voice, and increasing their confidence, communication skills and hope for the future."