Hearts for Hope
Posted on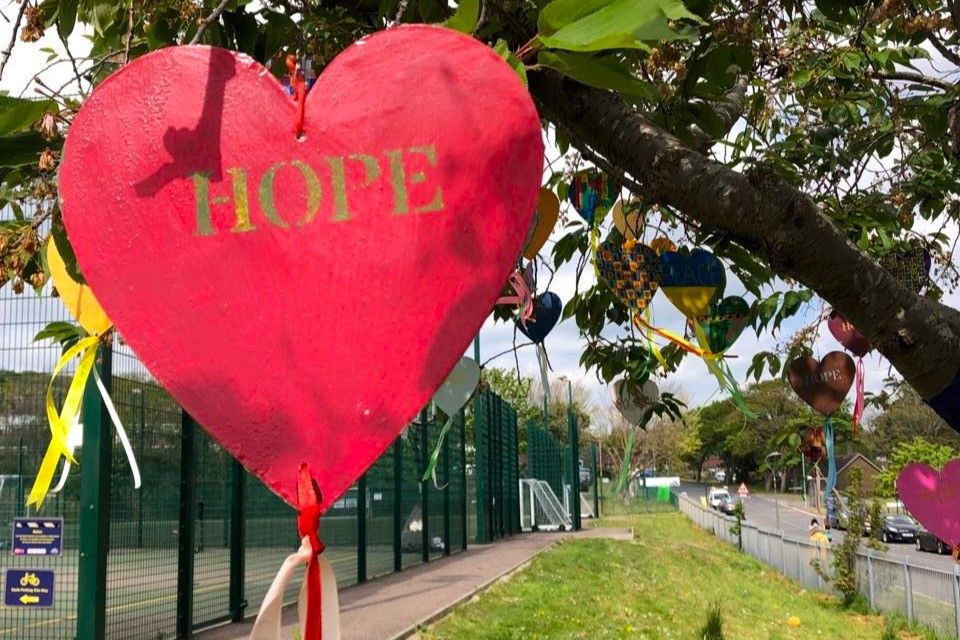 Hearts for Hope was an Our Place arts project for East Brighton as part of Brighton Festival in May 2022.
East Brighton community groups worked with a local artist to create a community artwork for this year's Festival and everyone was invited to join in!
The artwork 'Hearts for Hope' consisted of 240 brightly painted hearts hung in trees
and placed in wondows around East Brighton. Alongside this, the group approached East Brighton Trust to fund some book bags to encourage local children to get involved. As well as providing activities for the children, these book bags helped promote other Our Place events to families in the area who might not otherwise have realised that Brighton Festival had come to their doorstep!
Brighton Festival producer Sally Scott got in touch to tell us how the money had been spent and you can see pictures of some of the hearts above and below:
"The money from East Brighton Trust was used to fund art activities to go into the book bags of children across the area as an extension of the Artist in Residence project 'Hearts for Hope'.
'Hearts for Hope' was run as a collaborative project between the East Brighton Our Place steering group and Brighton Festival. The project saw artist Christina Ure run workshops in groups, community centres and parks for participants of all ages who created beautiful hearts which were then hung in selected trees across the neighbourhood for all to see. Some of the hearts can still be seen on the railings outside St Mark's primary school.
The money from East Brighton Trust meant that we could extend the project to all schools in the area who were able to put the activity sheets into the bookbags, so that every child had the opportunity to take part."