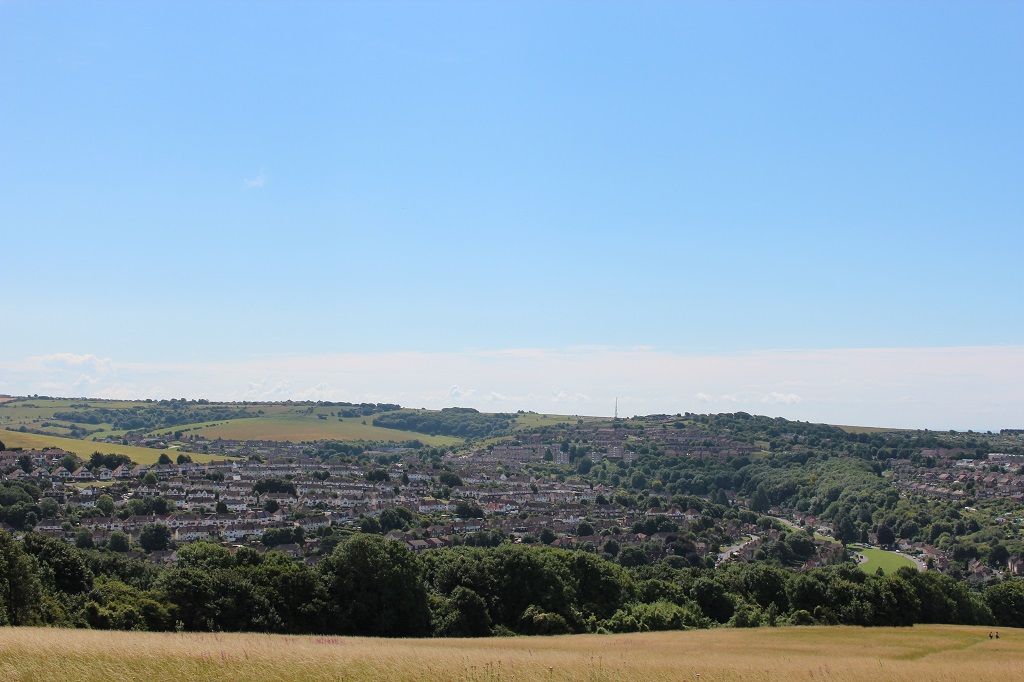 Moulsecoomb, Bevendean and Bates Estate.
Our reach extends to this area along the Lewes Road corridor and to the edges of the South Downs which contains pockets of protected woodland and grassed commons. Multiple generations of families can be found living here.
Much of the area consists of social housing, with a large proportion provided by the council - tenants and resident groups lend a voice to those living here. Parts of the area are within the 10% most deprived areas in the UK as defined by the Index of Multiple Deprivation and data from the Local Insight Profile for Moulsecoomb and Bevendean produced March 2019 states that 32% of children are living in poverty in this area compared with 17% across England. It has the worst child poverty in Brighton and Hove, ranked 3rd most deprived in Sussex and 114th nationally.
While the area faces many problems, there is a growing network of community
organisations and partnerships working together, and a rising sense of possibility and opportunity emerging across the estates. In 2018 the community and local services developed a shared Neighbourhood Action Plan through community consultation events and focus groups, which can be found here: Moulsecoomb & Bevendean NAP.
Moulsecoomb is home to The Bevy – the only community-owned pub on a housing estate in the UK. It was reopened in 2014 by local people and is now much more than just a pub - delivering everything from lunch clubs to cooking clubs, often using food grown locally. The local school, Moulsecoomb Primary, is a central part of the local community, providing a vital education to children in one of the poorest parts of our city, in which many families face a multitude of challenges. The school plays host to a wide range of clubs and groups - over 40 organisations work with the school - each of them helping to enrich the pupils' lives and support the children's learning.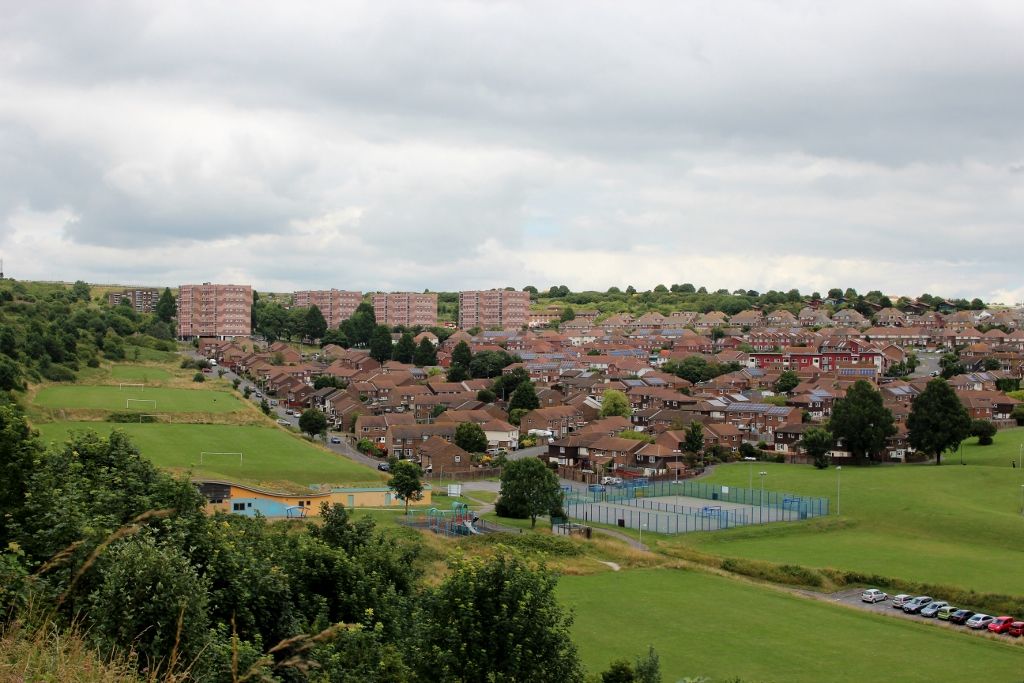 Whitehawk, Manor Farm, Bristol Estate and Craven Vale.
Our work reaches across to the area known collectively as "East Brighton". This is made up of the suburb of Whitehawk, a large modern housing estate located to the north of Brighton Marina, plus nearby Manor farm, Bristol Estate and Craven Vale. A busy and vibrant part of the city containing 3 schools, this area is home to over 14,000 people, including many young families.
70.3% of households in Whitehawk, Bristol Estate and Manor Farm are socially rented, 56.5% from the Council. Research shows that in this part of East Brighton, residents are falling behind in education, income, employment, health and wellbeing and housing compared with other parts of the city. 45% of children here are living in poverty
With a strong sense of pride and community spirit, local people are tackling this disparity - working collaboratively with the council to improve and develop the area through an East Brighton Neighbourhood Action Plan.
Due East Neighbourhood Council operates in the area - a group of passionate residents tackling exclusion and maximising resources available to local communities. Local community assets include St. Cuthman's Church, The Whitehawk hub - which includes Hawks Community Café and Whitehawk library, The Manor Gym - a sports hall and recreation venue, The Crew Club youth centre and Whitehawk FC, the community-minded local football club.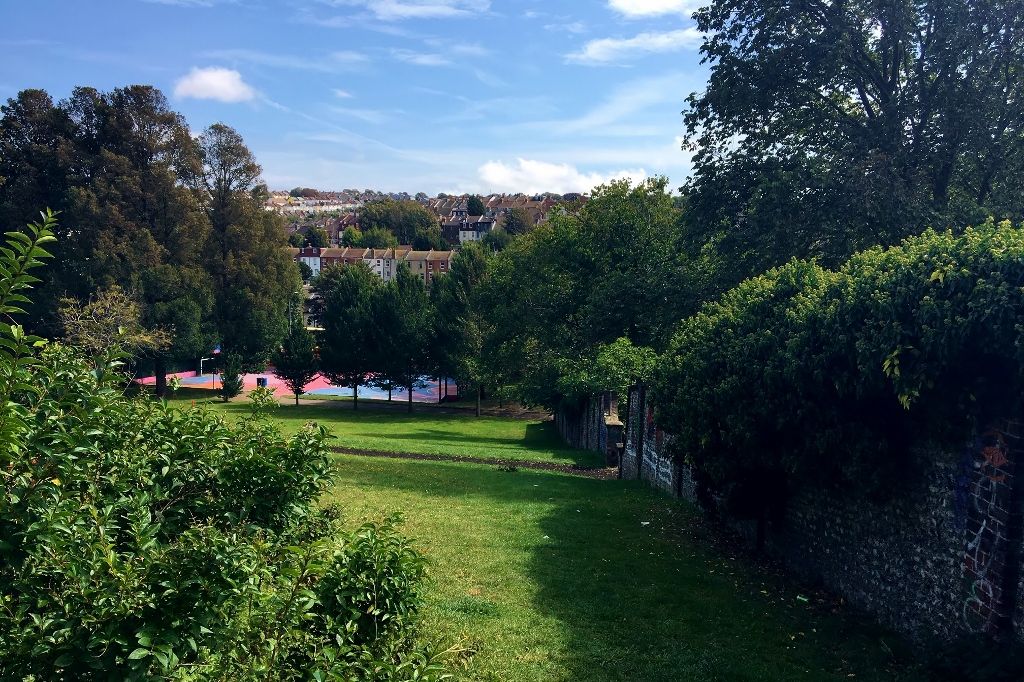 Saunders Park.
The Saunders Park estate is situated within the Hollingdean area of Brighton and can be found just off the Lewes Road, a primary route leading into the city centre.
The park itself is home to the Shabitat recycling depot as well as a public paddling pool, multi-use games area, children's playground, wildlife pond, small orchard, dog walking area, and an edible community garden which is looked after by a group of volunteers.
In 2018 the basketball court was renovated with a colourful design by local artist Lois O'Hara, transforming the formerly run-down court into a vibrant space for young people to spend time in.
The images below show the areas that East Brighton Trust works within. The stars represent the locations of small grants awarded.
This data was compiled by Sussex Community Foundation on our behalf and shows grants awarded since they began administering our small grants scheme in Summer 2016.
The first image shows the borders of the areas we work within
The second image shows the same areas along with their assigned Index of Multiple Deprivation (please see below for explanation)
This demonstrates that we are working in what can be described as some of the most deprived areas in the whole of England. Through our grants schemes we aim to address this by enabling local people and organisations to make a positive difference to their own lives and communities.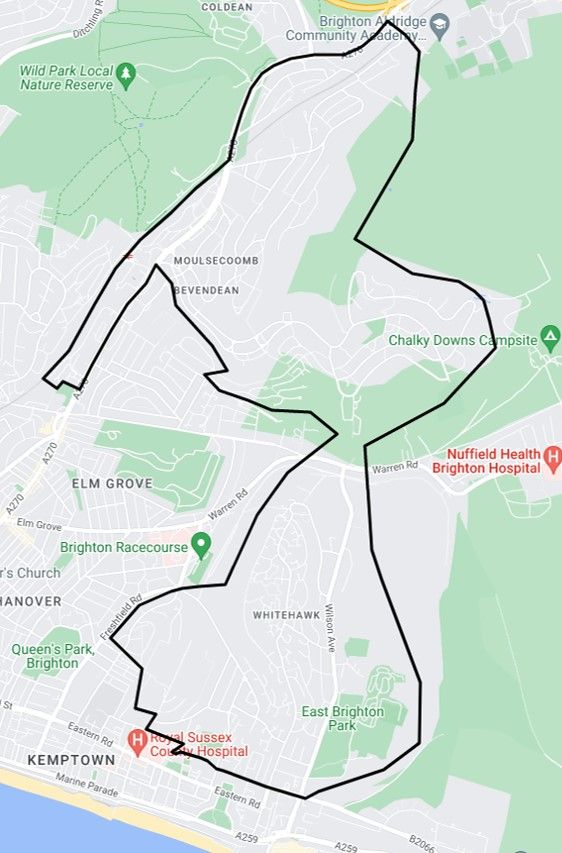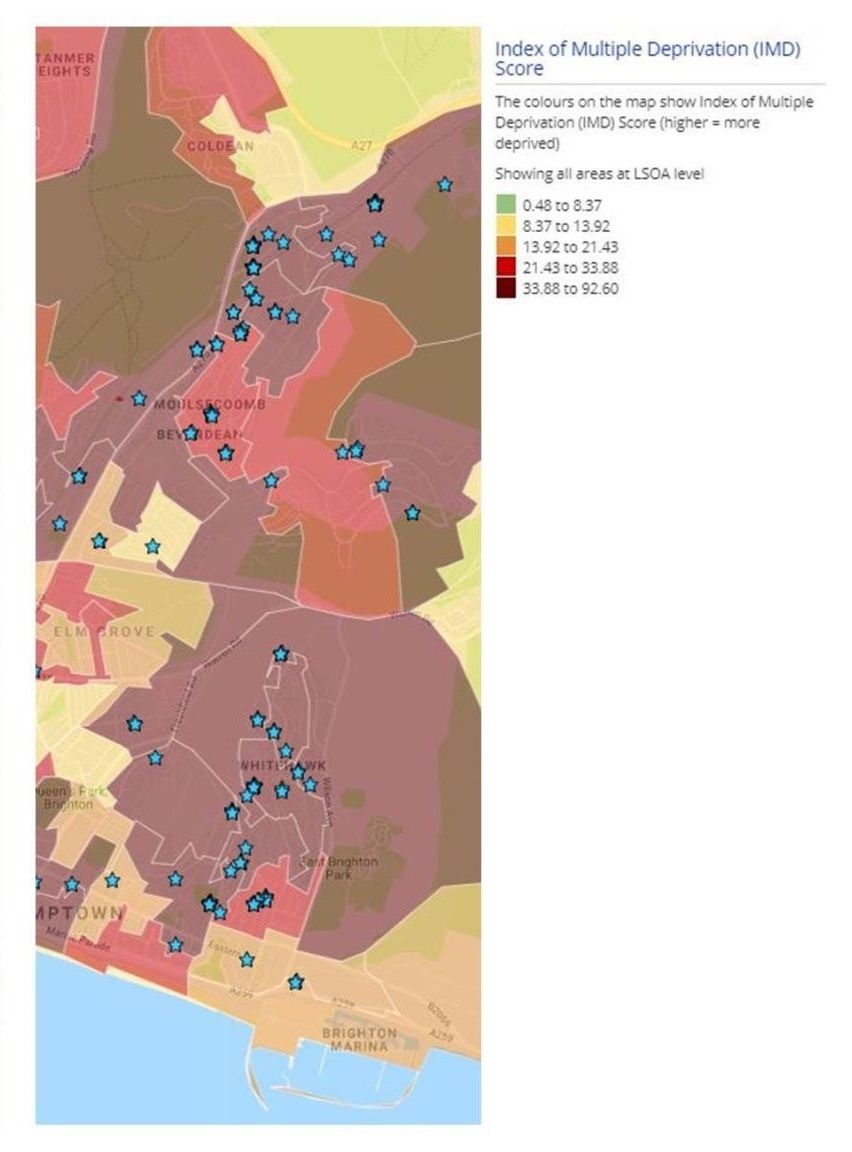 What is an Index of Multiple Deprivation?
The UK government regularly compiles an Index of Multiple Deprivation - an official measure of relative deprivation in England based on a variety of statistics.
This ranks every small area in England from most to least deprived and enables measurement and comparison of relative deprivation in small areas. Known as lower-layer super output areas (LSOAs), each one of these areas has an average population of 1,500.
The Index of Multiple Deprivation combines information from seven domains to produce an overall relative measure of deprivation. The domains are combined using the following weights:
Income Deprivation (22.5%)
Employment Deprivation (22.5%)
Education, Skills and Training Deprivation (13.5%)
Health Deprivation and Disability (13.5%)
Crime (9.3%)
Barriers to Housing and Services (9.3%)
Living Environment Deprivation (9.3%)
What do people use the Index of Multiple Deprivation for?
National and local organisations use the Index of Multiple Deprivation, sometimes in conjunction with other data, to distribute funding or target resources to areas. It is widely used across central government to focus programmes on the most deprived areas. Locally, it is often used as evidence in the development of strategies, to target interventions, and in bids for funding. The voluntary and community sector also uses the Index, for example, to identify areas where people may benefit from the services they provide. [Paragraph taken from the Government guidance on the report].
The latest report was compiled in 2019 and can be found here: https://www.gov.uk/government/statistics/english-indices-of-deprivation-2019