This weekend, parts of our neighbourhood have been turned into a Window Wanderland - an open-air art gallery created by local people.
East Brighton Window Wanderland
The Whitehawk Arts Collective and Manor Gym have worked with local people to create hundreds of pieces of art. They hosted workshops at various locations across the area where people could learn how to make their own stained glass design out of tissue paper.
These are now on display at three locations across Manor Farm and Whitehawk:
The Manor Gym (best viewed from the path to the South of the Gym and at the gym entrance)
Bristol Estate Community Room (search BELTA Brighton on google maps)
Whitehawk Library (best viewed from inside the library during the day)
The team at East Brighton Trust was thrilled to sponsor this project and we loved seeing it come to life with a walk around the area for the launch weekend starting Friday 18th March.
The works of art will remain in place for the next few months so if you didn't manage to catch them this weekend you still have a chance.
Well done to everybody who took part and special thanks to Sarah Griffiths of the Whitehawk Arts Collective for making this fantastic project happen.
Watch this space for details of the next East Brighton Window Wanderland!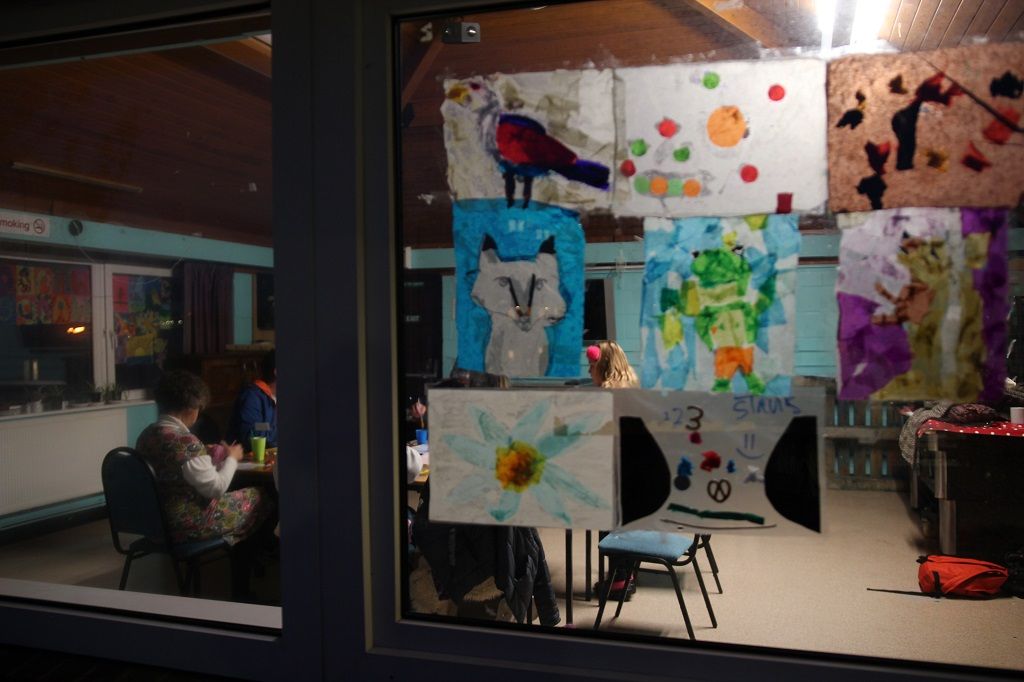 "Everyone's loved it, and the whole community's been involved. It's been nice to have a challenge to work towards, and everyone could give it a go - there's no right or wrong way to do it and people of all abilities could try it. "
"It was fun meeting other people in the community and doing a group project together. The art could be abstract or symbolic, everyone was encouraged and the process was simple enough for everyone to be included."
"I'm enjoying it! I've made a giraffe, an eagle and lots of flowers."
"I only found this community centre 2 weeks ago and I'm really enjoying myself doing this. It's something you'd never try at home, I'd never have done it if I hadn't come along."
What is a Window Wanderland?
Window Wanderland started in Bristol in 2015 and is an event where local people make a display for their window or garden to form a walking trail for a Winters' evening.
People are encouraged to do whatever they want, from a candle in the window, to a cut out silhouette. It's really easy to do, great fun to participate in and open to everyone.
"Everyone can come along and look at art who wouldn't normally be able to. It's nice to be able to get people making and nice to put the Bristol Estate community room on the map and use the space for what it's meant for."
"Lovely to see these vibrant images as we come out of the past months' pressures; we can look forward to re-establishing community times ahead."
"What I liked is that you can do whatever you like and it's a fun thing. You get to express your feelings through drawings."